Real Money Gaming apps are not allowed to be published on the Play Store. Download the app following the instructions set out below.

OR
Step 1/4
Tap 'OK' to complete the download. Don't worry SpotBall is 100% safe and secure
This type of file can harm your device. Do you want to keep SpotBall.apk anyway?
Step 2/4
After downloading the apk, go to your file manager to install the same. Kindly note that Google does not allow for installation via Chrome.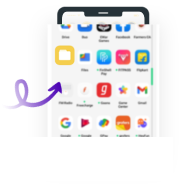 Step 3/4
Approve the installation of the app from unknown sources
Install Unknown apps

SpotBall 50.0.0
Allow from this source

Step 4/4
"Click Install Anyway"